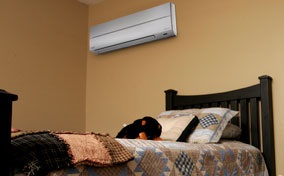 If you don't want to deal with your loud, scenery-blocking, inefficient window air conditioning unit this summer, why not consider a mini-split air conditioning system from Degree Heating & Cooling. We offer our Rocky Hill, CT customers mini-split air conditioning that's designed to cool any space in your home without the need for additional ductwork – making it a great choice for areas of your home like additions and sunrooms.
With 20 years experience in the home comfort industry, we think you'll agree that Degree Heating & Cooling can be trusted to offer professional mini-split air conditioning installation in your Rocky Hill, CT home. Our highly skilled technicians will provide you with professional, courteous service, so you'll quickly be enjoying the comfort of your new mini-split AC.
For the best in mini-split air conditioning for your Rocky Hill, CT home, count on Degree Heating & Cooling.
In places in your home where ductwork is either impossible or impractical, mini-split air conditioning can provide the same kind of cool comfort you'd expect from a traditional cooling system. Whether you want to create a quiet, comfort controlled room, or just want to cool an area of your Rocky Hill, CT home without the expense and mess of installing additional ductwork, a mini-split AC system is an excellent option. Mini-split air conditioning provides:
Variety (different models that suit your room)
Energy efficiency
Good looks
Quiet function
Increased comfort
Keeping cool with no ductwork doesn't have to be a problem, when you choose a mini-split system for your Rocky Hill, CT home from Degree Heating & Cooling. If you'd like to take advantage of all the benefits a mini-split system has to offer, simply give us a call at (860) 633-6122 and we will be happy to help you with you mini-split air conditioning needs.
Degree Heating & Air Conditioning is a full-service air conditioning contractor. In addition to mini-split air conditioning, we're pleased to offer: