Aspen Air Purifier with HEPA Filters
The Aspen air purification system is a high-performance air purifier with true HEPA and activated carbon filtration. You can count on Aspen to provide high airflow and exceptional efficiency, with a fan motor that uses 85 percent less electricity than fans in most other units. Aspen is an ideal choice for those who suffer from respiratory concerns such as asthma or allergies. This filter is ideal for homes with baseboard heat or no ductwork to allow a central unit to be installed.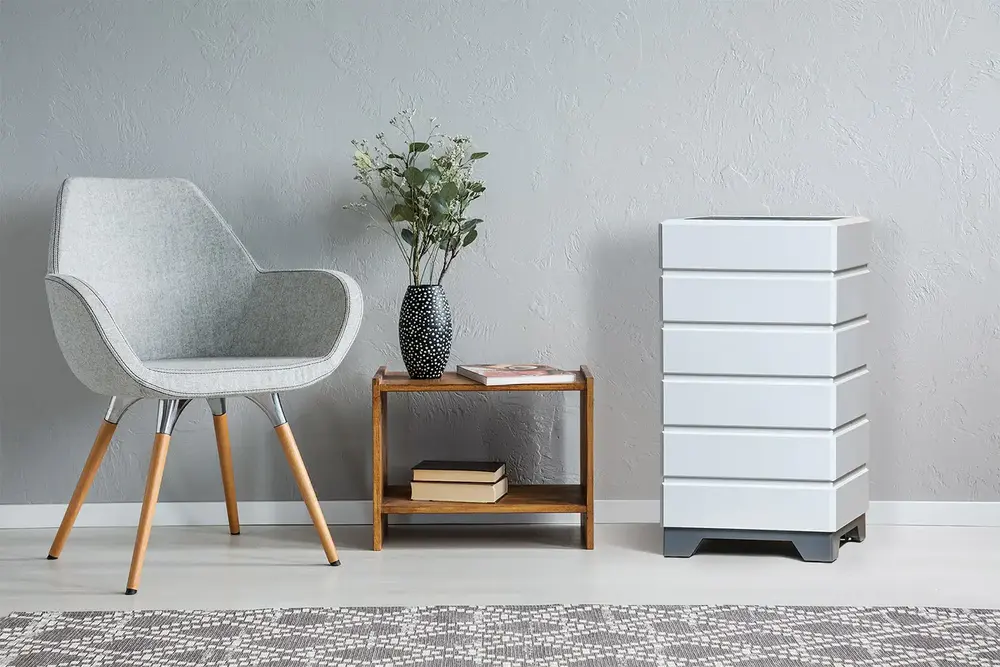 Removes over 99.97% of dust, dander, and pollen
The MERV 14 rated filter allows the Aspen to provide excellent particle removal, including dust, dander, and pollen. The filter also traps mold spores, dust mite droppings, asbestos, fiberglass insulation, sneeze droplets, and other pollutants.
Uses 85% less electricity
Aspen has been engineered to provide high energy efficiency. It utilizes a German-made EC fan motor that helps you save electricity – and money on your utility bills. 
Covers 1,500 square feet
With a large coverage area of 1,500 square feet, Aspen is ideal for a mid-sized home or apartment. Not to mention, it's easy to install Aspen, so a whole-home coverage is not a problem in larger homes that may require additional units.
Air filters are proven more effective at removing pollutants than any other air purifier
Unlike some products that contain HEPA-style filters that may allow smaller particles to pass through, Aspen uses a proprietary microparticle HEPA filter with its lowest efficiency at 99.97%. That means fewer particles are able to pass through, providing you with the cleanest air possible.
Benefits of Air Purifiers
Professional-grade air purifier covers 1,500 square feet
3-stage air filtration process for maximum air purification
Removes more than 99.97% of particles down to 0.1 microns
Uses 85% less electricity
Reduces allergies, asthma, and risk of long-term illness
Uses 100% safe purification methods
Assembled in Connecticut, USA
10-year warranty with filter subscription & 2-year standard warranty
Unit can be placed in any room.
How do air purifiers work? 
Aspen works much like a sieve, moving air with a fan across the filter material and removing microscopic solid and liquid contaminants in the air. The particles become embedded in the filter, removing them from the air in your home. This filtration repeats several times per hour. 
How are air purifiers different than humidifiers?
The functions of an air purifier and a humidifier differ greatly. Air purifiers are made to remove particulates from your indoor air. Humidifiers are made to introduce moisture into overly dry indoor air. Humidifiers do not remove contaminants from the air. As each one serves a different purpose, it might be necessary to install both in your home, depending on your needs.
3 stage filtration process
Aspen is highly effective because it uses a three-stage filtration process designed to remove the highest possible number of particulates from your indoor air. 
Allergy Filter:

Removes mold, pet dander, pollen, dust mite droppings, asbestos, & more! This filter helps keep the sniffling and sneezing often present during allergy season at bay, helping you and your family feel more comfortable.

Activated Carbon Filter:

Removes VOCs, odors, formaldehyde, chemicals, tobacco smoke, & more! Removal of these air contaminants provides healthier air for all, but most importantly for anyone who suffers from respiratory concerns such as asthma.

Microparticle HEPA Filter:  Hospital grade filter removes 99.99% of particles down to 1.0 micron and 99.97% of particles down to 0.1 microns, which includes smoke, bacteria, viruses, smog, radioactive fallout, and ultrafine dust.  Independently tested according to IEST-RP-CC001.6 standards.
Remove harmful pollutants with our high efficiency purifier. 
The Aspen Air Purifier system can be yours for $1649 plus tax. Filter replacement set is $234 plus tax. FREE delivery in the local area! Contact us now and we will get back to you shortly.
You don't have to take our word.
◦ "I've had allergies and can't sleep through the night. With my new Aspen, I slept like a baby!"
◦ "The dog smell went away! And I still have the dog!"
◦ "The old house smell went away!"
◦ "We noticed a difference in an hour."
◦ "I tried everything. Finally – a real solution!"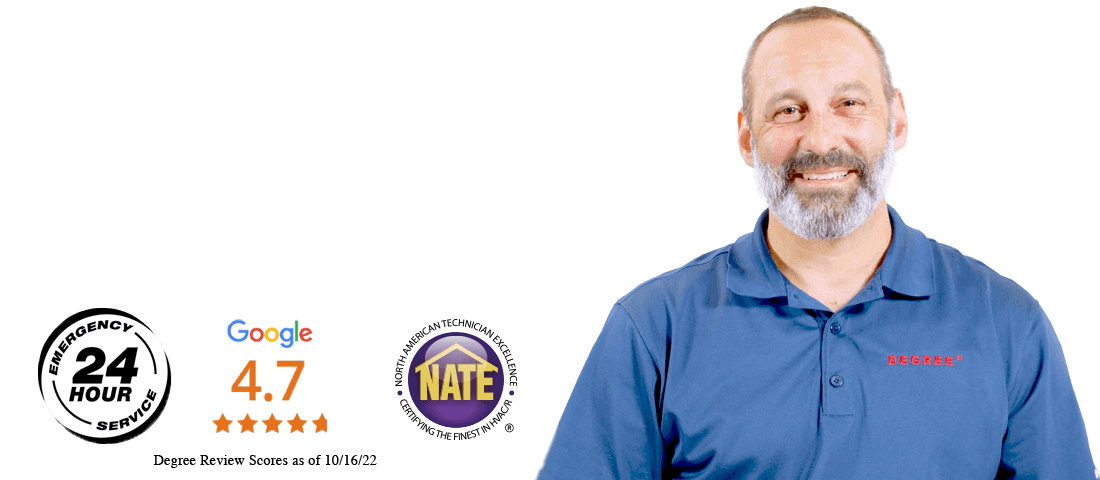 The Degree Difference
At Degree Heating & Cooling, we're dedicated to providing the best possible HVAC solution for your home or business. You can rely on us to provide you with a ductless system that is individualized for your needs. And, since we've installed many systems across the Connecticut region, we've earned a reputation for doing the job right the first time. Let our experts customize a solution that's right for you and your budget.
Why Choose Degree Heating and Cooling?
---
Locally Owned For 30 Years
We're not a franchise. We truly care about the community we've served since 1993.
A Company You Can Trust
It's our promise to never use high pressure sales tactics or sell you something you don't really need.
Save Energy and Money
We carry the latest high efficiency equipment to help you reduce your energy use, and cost.
Highly Qualified Professionals
We promise the fast, professional service you deserve and to leave your home spotless.
Ready? Let's go!
Submit a request through our online request form or give us a call and our specialist will help you to have the cleanest air possible.