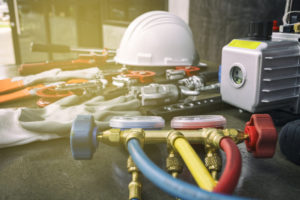 When the spring season arrives, many homeowners want to make home improvements for a variety of different reasons. Often, they want their homes to be more comfortable. This can include getting new windows installed, improving the insulation in their home, or getting maintenance on their home's air conditioning system.
Spring can also be a good time for an HVAC system replacement, as the weather has warmed up enough not to require constant heating, but is still cool enough that air conditioning is not yet needed. For many people though, choosing an HVAC contractor can seem like a daunting task. It's important to make sure that the company you're hiring is reliable and trusted, and is able to help meet any home comfort need you might have.
10 Things to Look for When Choosing an HVAC Contractor
Whether you're looking for a contractor who can maintain your home's heating and cooling system, install brand-new HVAC equipment in your home, or provide you and your family with better indoor air quality, it's important to do your research. Below are 10 things any homeowner should keep in mind when selecting an HVAC company to help meet their home comfort needs.
Check with neighbors, friends, or family. Often, the best way to learn about home comfort companies in your area is by word-of-mouth referral. What company have they used for their HVAC needs, and were they satisfied?
Check review sites and social media pages. Google Reviews, Yelp, and Facebook are all good places to check in and see what others are saying about a particular company. At Degree Heating & Cooling, we're proud to have a 4.7 out of 5-star rating on Google, as well as a 5-star rating on Facebook.
Check the local Better Business Bureau for complaints. The Better Business Bureau (BBB) is a great place to look for both ratings and complaints. If you do notice a complaint, see how the company resolved it. Degree has been accredited by the BBB since 2008, and we have an A+ rating.
Look for local companies whenever possible. Companies that service locally are likely going to work to earn and keep your business because they understand the importance of having a good reputation and know the power of word-of-mouth advertising.
Make sure the business is locally owned. "Home-services" companies that offer everything (HVAC, electrical, plumbing, duct-cleaning, for instance) are often owned by nationwide chains. Unfortunately, that can mean they aren't as invested in your satisfaction as a small family-owned company might be.
Big box stores may offer services, but often do not have their own technicians. Many times, these types of stores use outside subcontractors to do the work, who may, or may not be local.
Find a company that has been in business for at least 10 years. If an HVAC contractor has been around for 10 years or more, it's very likely that they not only do a great job but also make customer satisfaction a top priority. At Degree, we've been keeping people comfortable for 28 years.
Look out for a valid license number. Be sure your contractor has their license number displayed prominently on their website and vehicles, check to make sure it is valid and not expired.
Be wary of high-pressure sales tactics. Good contractors want to get you into the best system for your budget. They will never pressure you into purchasing equipment you don't need and will be honest about whether they can (within reason) affordably repair your system, or if it should be replaced.
A contractor should understand local codes and ordinances. Your contractor should pull the appropriate permits and ensure an inspection is completed.
Degree Heating & Cooling is local, family-owned, and ready to help you.
At Degree, it means a great deal to us when customers trust us to help them stay comfortable. We want to help you achieve the best possible home comfort as well. We assure you that you can trust us to meet your needs, whether you need heating, cooling, or indoor air quality products and services. We're ready to help you get the HVAC installation, maintenance, or repairs you need. Contact us online or call (860) 633-6122 to find out how Degree Heating & Cooling can be your home comfort contractor of choice.