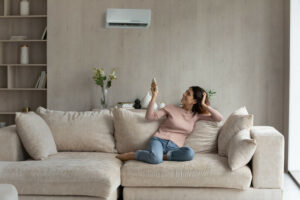 The summer months mean lazy, hazy days enjoying the outdoors, from beaches and picnics to fun summer sports. The warmer temperatures also mean that you probably enjoy cooling off in a nice, air-conditioned home after spending time outside. You might have an air conditioning system installed in your home that's on the older side, or you may be considering a brand-new AC installation. Either way, there is much to consider when choosing the right system for your home and lifestyle.
Today's air conditioning systems are built to provide homeowners with effective and highly efficient cooling. For instance, an air conditioner installed today versus one installed in 2012 may save you 20-40 percent of cooling energy costs. And, you could potentially save up to 50 percent on cooling costs if you have a system that's more than 10 years old. As technology improves, air conditioning systems and the refrigerant they use become much more energy efficient and earth-conscious, helping you keep your home cooler while reducing your carbon footprint at the same time.
And, there are different types of HVAC systems available
Along with better efficiency and more environmentally conscious refrigerants, air conditioning systems have also been developed that can work in a variety of applications. In this article, we'll focus on central air conditioning and ductless cooling – what they are, how they work, and what scenarios they are most suited for. Keep reading to learn more!
Central Air Conditioning
Central air conditioning has been a popular choice for homeowners for many decades. That's because a single unit can supply cooled air throughout the entire home. Homes that have a forced-air heating system, such as a furnace, are ideal candidates for central air conditioning. Most people with a furnace will opt for a split system, where part of the unit sits outside the home and an indoor cabinet that contains the indoor heat container and blower.
It is essential that there is ductwork already installed in the home in order to use a central air conditioning system. This type of system relies on the ductwork in the home to carry the cooled air throughout. While you can choose to add ductwork to your home in order to support a central air conditioning system, it may not be cost-effective or even feasible. Fortunately, you have options for cooling a home where ductwork is not a possibility.
Ductless Cooling
As the name implies, ductless cooling systems work without the need for ductwork. Because they don't rely on ductwork to deliver cooled air, they are a great choice for homes that have baseboard or radiant heating. One of the main advantages of a ductless system is its efficiency. When compared to window AC systems, ductless systems offer much better energy efficiency, often consuming up to 40 percent less energy.
Ductless systems require minimal construction during installation, using a small-diameter conduit to connect the indoor and outdoor units. Unlike window air conditioners, which can be loud and obtrusive, ductless systems are usually quiet and can be mounted high on a wall or ceiling, out of your living space. Whether you have just one room that could benefit from ductless AC or an entire house, there are different configurations available to help you get just the cooling you need.
And, as an added bonus, ductless systems are available that can also provide heating during the winter months – making them a great option if you need to replace old baseboard heat.
How can Degree Heating & Cooling help me choose the best system for my home?
When you choose Degree to help you determine what type of air conditioning system is best for your home, you can count on the fact that we're dedicated professionals. Your home comfort is always our top priority, and we're pleased to provide you with the air conditioning products and services you need for complete comfort. Whether you're considering a new installation, or need maintenance or repairs for your current system, we can meet your needs.
We'll always provide you with the best quality air conditioning products as well, from names you can trust like Carrier® and Mitsubishi®. Degree wants to help you enjoy cool comfort in your home, now and for years to come. If you're ready to talk with us about your air conditioning options, please give us a call at 860-633-6122, and we will be happy to schedule an appointment with you.