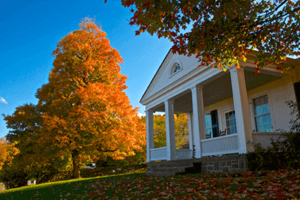 Now that the fall season has arrived, cooler temperatures will be here before we know it. Along with the changing season, many homeowners turn their attention from cooling their homes to heating. No matter what type of heating system you have in your home, early fall is a great time to make sure it is operating properly. And the best way to do that is to make sure it gets the maintenance it needs each year.
Questions?

Submit a request,
Or give us a call.
860-633-6122
Just like your air conditioning system benefits from preventive maintenance in the spring, autumn is the time to have one of Degree's HVAC contractors give your heating system a complete checkup. It will give you peace of mind knowing that everything is working properly once the temperatures start to dip down. There are many benefits to choosing a heating maintenance plan for your system – keep reading to learn more!
Six Reasons to Get Heating System Maintained This Autumn
Having your heating system checked and tuned up on a yearly basis is important for the life and efficiency of your heating equipment. Here are a few reasons why it's going to make a difference for you and your home:
It helps your heating equipment operate more efficiently. Over time, the inner components of your heating system, as well as your filter, can become dirty. Dirty and clogged parts can make your heating system work harder and lose efficiency. Having a regular yearly maintenance check will help ensure your system is running clean and efficiently!
Maintenance allows for more effective heating. Through time and frequent use, your heating equipment collects dust, dirt, and debris – and this can build up inside your unit and make it hard for the components to move properly. Annual maintenance includes cleaning your system, allowing all the moving parts to work freely – helping your system heat your home more effectively.
Your warranty will remain intact. Most equipment warranties require you as a homeowner to get regular maintenance in order to preserve the warranty on the equipment. Failure to do so can cause the warranty to become void – and that means you might have to pay out-of-pocket for expensive repairs or replacements.
Your technician may find small problems that can easily be remedied. When it comes to major equipment like furnaces, boilers, or heat pumps, it's much easier to take care of problems before they become larger and more expensive problem. By getting annual maintenance tune ups, your technician will have a better understanding of how your system is working and will be familiar with its history. Our technicians are trained to spot pyour sotential issues with parts and systems and can recommend fixes to keep you warm all winter.
Your heating system will likely last longer. Getting maintenance not only helps your system run better on a yearly basis; it also helps it last for years to come. With proper maintenance, your system will be cleaned and tuned up every year, and any small issues will be taken care of right away. All that adds up to longer system life – and that means big savings on replacing entire systems.
The air in your home may be cleaner. This is especially true if you have a forced-air heating system, where the heated air is delivered from room to room via your home's ductwork. When your heating system is dirty, the air that flows through it becomes dirty as well. And, that air just keeps circulating through your home. A clean system and fresh filter help keep your home's air cleaner, too!
How can Degree Heating & Cooling help me get the annual maintenance I need?
At Degree, we're pleased to provide our customers with the annual maintenance they need on all types of heating systems. We offer annual service agreements which can reduce the cost of your heating system maintenance tune-up. When you rely on us to perform your heating system maintenance, you're choosing a company that's both reliable and professional. When you're ready to schedule your fall maintenance appointment, simply call us at (860) 633-6122, and one of our friendly associates will be happy to assist you.