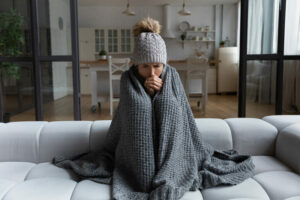 It never fails – if your heating system is going to go on the fritz, it likely will do so on the chilliest day of the year. There is nothing worse than finding out that you need a new heating system when the weather outside is at its coldest. But sometimes, replacing that old furnace or boiler is actually for the best, especially when it comes to your family's comfort and your home's energy efficiency.
Unfortunately, once a heating system begins to fail, it can become a safety concern, aside from leaving your family cold and uncomfortable. It can cause your utility bills to spike, and you may find yourself paying a lot more for repairs than you'd like to. In this article, we'll talk about a few of the different factors to consider when it comes to replacing your heating system, and how Degree can help. Keep reading for more information!
Why Should I Consider Replacing My Heating System?
At Degree, we completely understand that replacing a heating system is an expense that most homeowners don't look forward to. That's why we never suggest a replacement when a system still has significant life in it. However, there are some factors to consider when thinking about repair or replacement, including:
Age of Equipment: If your current system is 10 years old or more, chances are it has become less energy-efficient, and less effective at keeping your home comfortable. This can be especially true for systems that have not been properly maintained over the years. And, heating equipment technology is constantly evolving, and modern units are usually much more efficient than older ones.
Warranty Status: Your equipment's warranty status often goes hand-in-hand with its age, so chances are if you have an older heating system it is likely no longer under warranty. Whenever your system falls out of warranty, it's good practice to start making plans to replace it, as you will now have to cover any part replacements and repairs out of pocket.
System Size: If you have increased the size of your home through additions or converted spaces, your furnace may not be sized appropriately to meet the heating needs of your home. This can make your system operate less effectively and efficiently. The good news is, a ductless heating unit might help keep new spaces that are not connected to the home's ductwork comfortable – and cause less stress on your current system.
Expensive Repairs: If it seems like you've had to make costly repairs to your heating system over the last couple of winters, you may find that it's more cost-effective to replace your system. A good rule of thumb is, if the cost of repairs is 50 percent or more of what your system is currently worth, a replacement may be the most economical choice.
Poor Energy Efficiency: If your utility bills have been on the rise for no good reason, your heating system could be the culprit. As heating equipment ages, it begins to lose efficiency, and eventually, homeowners end up spending more on their energy bills than they might on a newer and more efficient system in the long run.
I think I'm ready for a new heating system. Can Degree Heating & Cooling help?
We sure can! We've been in the business of providing our customers with the best names in heating equipment, as well as the highest level of service, for the past 30 years. We offer a wide variety of heating services and products that will keep you and your family warm all winter long. Let our experts help you customize a heating experience that's right for you. Just call us at (860) 633-6122, and one of our friendly associates will be happy to help you with your heating needs.